Bob Lusk 
 
Editor, Pond Boss Magazine

Registered: 04/10/02 
Posts: 2286 
Loc: Whitesboro, Texas
 http://forums.pondboss.com/ubbthreads.php?ubb=showflat&Number=1...  
TJ Stallings of True Turn Hooks, TTI-Blakemore, had a nice display. He introduced me to Dr. Rick Blackwell and "Five-Three", a young black angler trying to find his niche in the bass fishing business.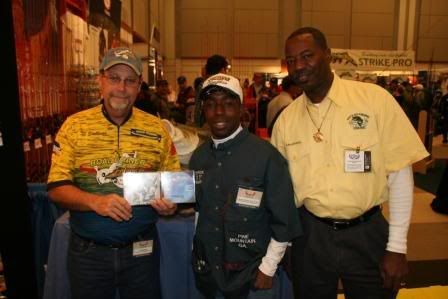 TJ, "Five Three" and Dr. Blackwell. "Five Three", aka Derrick Milsap, cut a rap cd about fishing and was at the show learning how to play the "game" of professional bass fishing. He is a sharp marketer and Dr. Blackwell is showing him the ropes. You have to figure out how to market yourself. That's exactly what young "Five-Three" was doing. I suspect he's got a chance to get out there. Remember that name...Derrick Milsap. I think we'll hear about him some more...all 5'3" of him.
5'3" is featured on Malik Wilder's FishingForHipHop "Lines and Hooks" Compilation CD. To get a copy contact FishingForHipHop.Com,